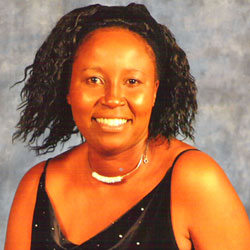 MS MILDRED MUZUVA
Ms Mildred Muzuva is the founding Director of Yamurai Women Empowerment Group (YAWEG) and is the key visionary behind YAWEG.  Ms Muzuva is an inspirational figure who provides financial and material support to YAWEG.  Ms Muzuva brings in her invaluable experience of development work she attained when she was employed by the Australian Embassy for 16 years.
Ms Muzuva is the Executive Director for YAWEG and oversees all the operations for YAWEG in Zimbabwe and it's her intention to expand YAWEG activities within Southern African Development Community (SADC) region and beyond.
Mildred holds a Diploma in Public Relations & Marketing, Diploma in Business Administration and she is currently studying for an Honours Degree in Sociology & Gender studies.
Ms Muzuva's passion is poverty alleviation among women and children and her goal is to empower women by providing skills and ensuring all young children have access to education and basic health facilities.